On September 15, 2020, the kids KA and KB celebrated International Dot Day!!!  If you're not sure what International Dot Day is all about, here's a little explanation:
September 15th marks the anniversary of the publication of best-selling author/illustrator Peter H. Reynolds' The Dot, a "story book for all ages."

Starting in 2009, a group of educators began celebrating this date as International Dot Day — a day for classes to explore the story's powerful themes: bravery, creativity, and self-expression.

The Dot tells the story of a caring teacher who reaches a reluctant student in a remarkably creative way. In Peter's book, the teacher dares a very resistant Vashti to "make her mark." Vashti's breakthrough begins with a simple dot on a piece of paper. Encouraged by her teacher she sets off on a journey of self-discovery, letting her creativity bloom and, ultimately, inspire others.

from The Educator's Handbook for International Dot Day
To mark this special day, KA & KB started a painting project last week with Morah Shira where they were encouraged to create a dot much like one of the many that Vashti creates in the book which they will complete later this week.  Yesterday, after reading the book, the kids got to explore their own creativity by making their dot out of many dots, using bingo dabbers on coffee filters, as well as drawing their own special masterpieces to make their mark.  We listened to and watched a video of the "The Dot Song" written by Emily Arrow and Peter H. Reynolds…. you can watch the video and do the actions at home at https://www.youtube.com/watch?v=r_I43cxDQ-o.  During lunchtime, we joined a live event hosted by author Peter H. Reynolds where we got to listen to him read the book along with thousands of other students around the world!!  We continued with this theme today as each class ventured outside to literally make their mark on the school grounds by tracing and chalk-painting their own shadows…. check out the pictures below for just some examples of how this book inspired creativity in our classes!!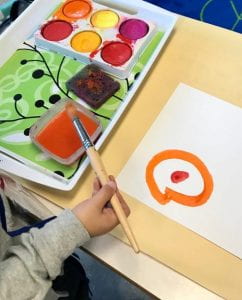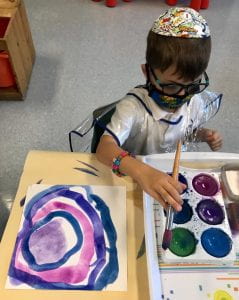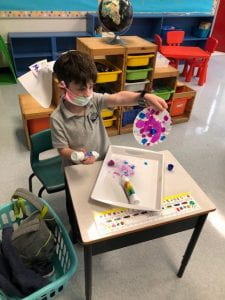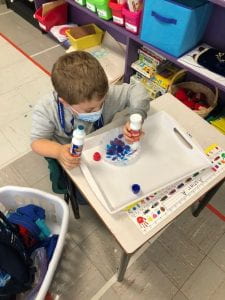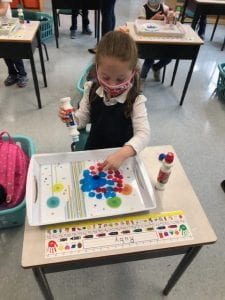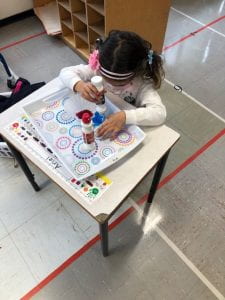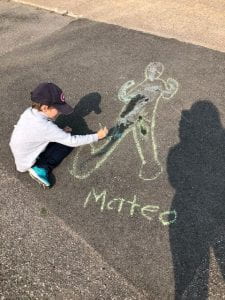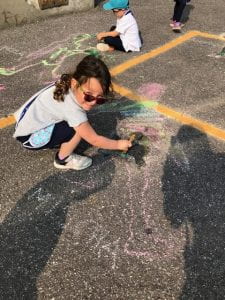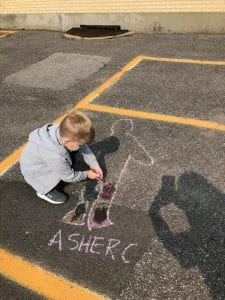 The school year may have just begun, but the kids in Kindergarten have already made their mark in a big way!!