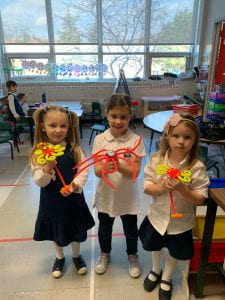 Today was the day we enjoyed the apples from our Apple Trip. Each one of us made our own individual Apple Crisp! During this fun activity we used a great tool to peel and core the apple in one step,and what fun we had eating the peel! Yes we ate the peels and renamed them snakes. We had to measure the ingredients and then mix, and the best part was Eating our delicious Apple Crisp. We sent home the recipe incase you would like to try your own at home.
We have begun our next unit in Math … Data Management.  The math words for this unit are Survey, Bar Graph, Tally,  Labels and Pictograph.  Combining our Global Read aloud..Nino wrestles the World  and Graphing, we chose our favourite Lucha Libre ( a mexican wrestler and made a class graph).
We conducted a class survey, and we made a class bar graph seeing which pet (if we could ),would we choose.
Tomorrow I will send home,  in your child's note tote, a hard copy of How-to read a Picture Book. Theses are the same strategies I use in the class for reading.  It is a good idea for all of us to use the same language while we read at home, that we use in school.
Of course the pictures tell it all! Enjoy!