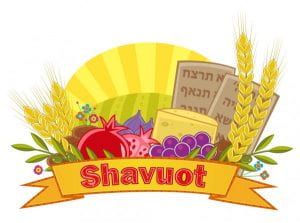 Can you believe that we are approaching the end of the year, and this is the last Jewish Holiday we will celebrate together?
Shavuot has 4 different names
Chag Shavuot (Festival of weeks) – We celebrate 7 weeks after Pesach on the 50th day of the omer.
Chag Ha Bikurim (Festival of the first fruits) – The first fruits (shivat ha minim: dates, pomegranates, olives, wheat, barley, grapes, and figs) were brought to the Temple as gifts to G-d
Chag HaKatzir (Festival of the 1st spring harvest) – Wheat and barley are harvested at this time.
Chag Matan Torah (Festival of the giving of the Torah) – God gave Moses the Torah for him to pass to the people of Israel.
We celebrate by going to synagogue to hear the 10 Commandments, having festive meals of dairy foods and fruits, staying up all night to learn the Torah, reading the Book of Ruth, singing, and dancing.
As mentioned, here is the recipe and video tutorial with Masterchef Morah Sigal to make a no-bake cheesecake!
If you are looking for some activities to help celebrate Shavuot over the long weekend (or during our asynchronous periods) check out this  Choice Board for songs, videos, crafts and more.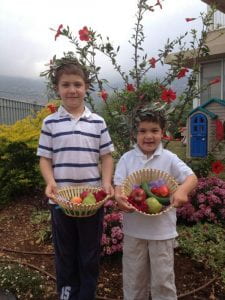 Chag Shavuot Sameach!
The Kindergarten Team