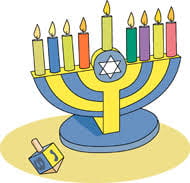 The  Kinders have been getting ready for our school Chanukah Celebration on Tuesday evening. We are asking that the children wear a white shirt and blue bottoms. We can't wait to celebrate with all of our families. 
As well on Thursday morning, the Ganon children will be joining us for a joint Chanukah Celebration  We will be decorating cookies and having a Chanukah Sing-a-long lead by Mr. G,(Mr. Goddard) our music teacher.
Next Friday our Dress Down Day money will be going to the Ottawa Mission! 
Shabbat Shalom!