Today we began our first Anchor chart for Writing: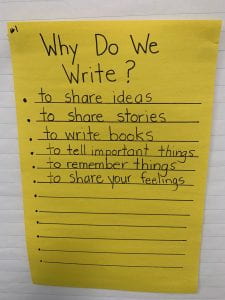 We have been  learning our vowel sounds through song. This is a great way to reinforce the short vowel sounds. Whether we know the sounds or are just beginning to learn them, this is a song that everyone enjoys. Feel free to sing along at home. The song is called Vowel Bat.
In math we have started our new unit on number sense. You may have heard your kids talk about Subitizing.  Here is our favourite Subitizing song we love to sing . Enjoy!
The book fair is coming up next week. This is a great opportunity to encourage a love of reading, while also receiving new books for our OJCS classrooms. Here are a few notes about this year's fair…
1) We are going to the book fair as a class on Wednesday, December 4th. Please send your child with money that day if you would like him/her to purchase something at the fair.
2) Parents can pop into the book fair before and after school. It opens at 8:00 AM and this year it will be open during P/T Conferences in the evening.
3) Parents can send a note with their child if they have any instructions for the money; i.e. wanting money specifically spent entirely on books, if at least one book must be purchased, using the change towards buying book from the teacher wish list.
4) Continuing this year, will also be the Teacher Wish List! Teachers will be posting lists of books they would love to have added to their classroom libraries. If you would like to buy a book for the classroom, you are welcome to do so!
5) In the past, there have been some students who spend  money on 'chachkas' rather than on books. If you'd like to make sure a specific amount is spent on books, please just send me a quick note and I'll keep an eye out 😉
Please let us know if you have questions.