Shabbat Shalom,
Today was a very exciting day in the Gan. We had an amazing peula with our Shinshinit Hila. First we learned about life on the Kibbutz and practiced our directions in Hebrew (yamina, smola, kadima, ahora, arzor) with a game. Then we acted out the story Tiras Cham (The Corn is Hot) by Miriam Ruth.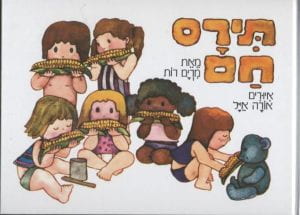 We also began learning Torah, starting with the very first Parashat HaShavua… Parashat Bereshit.
In their notetotes you will find the Shabbat Sheva Newsletter. Please read it together with your child. Each grade in the school has contributed to a section. Ours is a new song about Bereshit that we learned this week. You can hear the tune here:
At the bottom of the Shabbat 7 you will find a line that says:  I learned this week……………………..……………………………………………………….. and signature of  parents.
Please return the
Shabbat
7 on Monday. All of the students have a sticker book with a space for each parsha. Once they return the bulletin, they will receive a sticker in the corresponding spot.
Wishing you a Shabbat Shalom!
Morah Shira